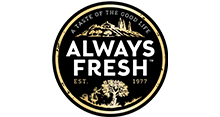 At Always Fresh, it's all about food, family & friends, and enjoying life's simple pleasures every day. For over 35 years, we have specialised in bringing traditional and emerging Mediterranean flavours, tastes and trends to your table. Explore our collection of over 150 market leading products including antipasto, crackers, pickled vegetables, condiments and so much more. From our table to yours, celebrate the good life with Always Fresh.
Like Always Fresh on Facebook www.facebook.com/AlwaysFreshAU


Olives
We partner with the best olive producers from around the world to deliver the widest selection of premium olives to your table. From our bold, fruity Kalamata olives, to deliciously salty Anchovy Stuffed Manzanilla olives.
Antipasto
Enjoy our leading range of gourmet Mediterranean antipasto, one of the widest selections of its kind available in supermarkets from sundried tomatoes, peppers, dolmades, to artichokes, capers and marinated mushrooms.
Cultured Dips
The good life just got even better: our new cultured dips are the Always Fresh Mediterranean flavours you know and love, but with added live probiotics. Choose from five flavours: Feta and Cashew, Sweet Pepper Feta & Cashew, Baby Beets Mint & Goat Cheese, Caramelised Onion & Goat Cheese and Greek Olive & Feta. They work perfectly with all of our existing range to create crowd-pleasing snacks or meals: put them on a platter, serve
with
a salad, or dip in a Crissini. They are completely gluten-free and you can find them in the chilled section of your local Coles.
Pickled Vegetables
As leaders in all things pickled, we offer a traditional range of preserved vegetables carefully selected from the finest quality produce. With a product to suit any taste, our range includes gherkins, cucumbers, pickled onions, beetroot, asparagus and more. All time favourites that have remained unchanged for generations!
Biscuits
Crafted by specialty bakers, our range of authentic crustini, grissini and wafer crackers are all baked to time honoured traditions using the finest ingredients.
Both our Italian grissini breadsticks and crustini bruschetta toasts are enriched with olive oil and are specially prepared to deliver something unique.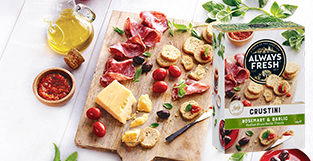 Olive Oil & Vinegars
Our authentic, wide range of Spanish olive oil and Italian wine vinegars have been made from olives and grapes grown in ideal climates where the cool, sunny winters and long, hot summers create the freshest flavours bursting with fruity aromas and penetrating character. Our range of olive oil includes extra virgin, extra light and pure olive oil. Within our range of vinegars there is balsamic vinegar, white and red wine vinegar and white vinegar.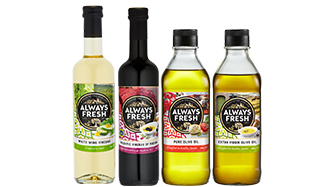 Relishes
A range of delicious relishes and fruit pastes that are the perfect accompaniments to any antipasto or cheese platter. We use simple ingredients that result in uncomplicated flavours, and are guaranteed to please even the fussiest of foodies.